Take these steps to ensure a safe, healthy living space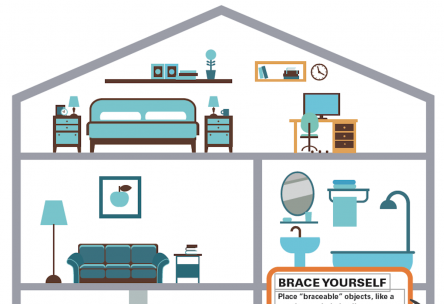 Falls can come from nowhere and without warning. Some falls seem unavoidable, but there are small changes that can make a big difference in ensuring a safe living space. Use this safety guide to injury-proof every room in your home. 
 

 

LIVING ROOM

Brighten up low-lit areas with night-lights or floor lamps
Ensure armrests are sturdy enough to handle your weight as you stand

 

KITCHEN

Sit at a table to prep foods
Move the heaviest and most-used kitchen items to the lowest shelves
Invest in a "grabber" device to extend your reach
If you use a stool, make sure it's the heavy-duty kind with a strong center of gravity

 

BEDROOM

Secure or hide cords that could present a tripping hazard
Place reachable lamps and light switches near seating areas
Secure or remove loose rugs

 

BATHROOM

Use nonslip bath mats
Install railings and grab bars
Buy a raised, padded toilet seat with handles

 

OUTDOOR WALKWAYS 

Put nonskid treads on steps
Install motion-sensitive lighting
Clear clutter from the ground and walkways

Outdoor Safety

Avoid injury in the yard or while shoveling

Yard work can be beneficial to your mood and well-being, not to mention being good exercise. But continuous lifting and pushing, especially in winter, can strain your body if you're not careful. Use these tips to stay safe. 

WARM UP BEFORE YOU START
Prep your body for bends and twists. Start and end with these stretches: neck, sides, hamstrings, quads, feet, and toe touches. 

WEAR SUPPORTIVE SHOES WITH GRIPPING SOLES
If shoveling or walking on snow and ice, wear boots with nonskid soles to prevent slipping.

PROTECT YOUR BACK
When shoveling or raking, stand up straight. Bend at the knees, not the waist, to grab items and avoid straining your lower back.

REACH OUT FOR HELP 
Don't risk injury in cold weather, especially if you have a heart condition. Many senior centers offer snow removal programs.