3 Cutting Techniques to Master
Make mealtime easy—and impressive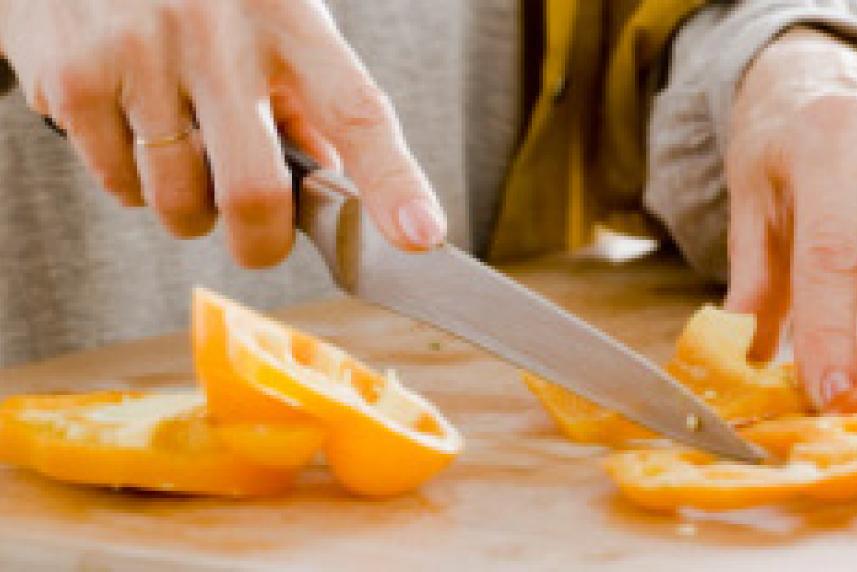 When you think of "knife skills," you may imagine a pro chef mincing mounds of perfectly cut onions or julienning peppers with ease. It looks challenging, but prepping produce is simple with the right direction (use a sharp, wide, non-serrated knife for these cuts.) Surprisingly, the way you slice food changes its flavor: mincing will give you a subtle, more condensed taste ideal for mixing with other minces to create complex dishes. With chopping, you get a stronger taste and larger chunks. Use this quick guide to master your skills.
Julienning
Great for fajitas, salads, stir-fries, slaws
A classic julienne cut is very thin, around the width of two toothpicks, but has evolved into a thicker cut in modern restaurant application. Test it on veggie strips for sizzling fajitas or a very French potage julienne.
To julienne (using celery as reference): Cut the ends off a celery stalk and slice it width-wise into 2.5" chunks. Hold each chunk firmly in place and slice lengthwise into thin, even strips. To julienne bell peppers, quarter peppers and remove the seeds and white membrane. Slice each quarter lengthwise into thin, even strips.
Looks like
Mincing
Great for fresh herbs, onions, garlic, ingredients for pastes such as curries
Mincing isn't just for mystery meat. Heat minced ginger, garlic, onions, and chili pepper in oil to infuse Asian dishes with flavor or mince fresh herbs to use as garnish or in guacamole.
To mince (using garlic clove as reference): Peel garlic and cut the ends off. Hold garlic firmly and cut lengthwise into thin slices, gripping garlic to keep the slices together. Cut garlic cross-wise into smaller pieces. Gather garlic bits into a mound and run your knife over garlic in a seesaw motion to make smaller bits. If you find this challenging, simply hold your knife horizontally and press into garlic from right to left to cut.
Looks like
Chopping
Great for salsas, bruschetta, eggplant caponata, ingredients for rice dishes
Perhaps the most basic of kitchen cuts, chopping works for almost any dish but shines in salsas and jambalaya. Learn this basic cutting technique to showcase your, well, chops.
To chop (using onion as reference): Peel onion and trim the ends, discarding the outer shell. Cut the onion in half lengthwise and place one half on a cutting board, curved side up. Hold the onion firmly and begin cutting lengthwise into small, even slices. Hold the slices together and cut the onion crossways. Finish with a few quick chops and repeat on the remaining half.
Looks like