With cases still rising in some areas, guidelines continue to call for covering up with non-medical masks. Here's the deal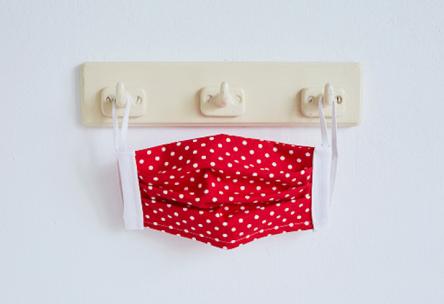 When to mask … or not to mask?
If you've been out in public the past few months, you may have wondered when or where to wear a mask. You've also likely seen signs on business doors requiring a mask be worn upon entry.   
In April 2020, the Centers for Disease Control and Prevention (CDC) began recommending that people wear "cloth face coverings" in public. The U.S. Surgeon General is even featured in his own face covering DIY video on the CDC website.
Based on research completed before the new coronavirus outbreak, there is some evidence that surgical masks catch many of the respiratory droplets of seasonal viruses exhaled by sick people, and therefore may help limit the spread of certain viral infections. 
Before you search for a suitable face covering of your own, be sure to follow these do's and don'ts.
Do: Choose the Right Materials
Store-bought or homemade face coverings are an effective way to do your part to help continue flattening the COVID-19 curve. They'll provide some protection against large respiratory droplets that may be carrying the virus. More importantly, they'll stop you from touching your face.
"Recommending that all people wear a face cover when going out in public prevents us from touching our nose and mouth with unwashed hands when these face covers are used properly," explains Brandon Brown, M.P.H, Ph.D., an epidemiologist at the University of California, Riverside. He also likes that they serve as a visual cue for others to cover up.
Clothing companies and neighborhood sewing groups have swooped in to help get suitable masks in the hands of the general public. But you don't need to spend money or seek out a seamstress to protect yourself. If you have an old t-shirt or even a bandana or tea towel, you have the makings of a basic shield, notes the CDC.
Here are a few DIY videos to check out:
The CDC

's recommendation, which requires any common cloth and rubber bands

This sewn

mask

from YouTube blogger Erica Arndt, which takes just a few minutes to stitch together

This no-sew

tutorial

from the YouTube page Japanese Creations, which calls for two hair ties, and a scarf or cloth
If you really want to be thorough, initial studies weighing the pros and cons of different types of materials for DIY masks favor "quilter's cotton," which is a heavyweight, tightly woven fabric with a thread count of 180 or more.
One material you may have heard about, but that Brown advises against, is a HEPA filter—the kind you might find in a vacuum bag or a furnace filter. "HEPA filters have particles that can potentially damage the lungs," he says. "We need to be sure what we are using does not have a long-term negative impact."
Don't: Ease Up on Other Preventive Steps
The advice to wear a mask comes with a warning: "Do not decrease the physical distance between you and others just because you are wearing a face cover," says Brown. He recommends wearing a mask in addition to other safety measures, including stay at home, practicing physical distancing when outside your home while wearing a face cover, as well as disinfecting surfaces daily.
Do: Wear Your Mask Like a Pro
The most important feature any face mask should have, according to Brown, is that it covers your nose and mouth.
But you also have to be smart about the way you put it on and take it off. Follow these steps from the World Health Organization:
Clean your hands with soap and water or an alcohol-based hand rub before putting on your mask or face covering.

Pull the mask over your nose and under your chin for the best coverage. Make sure there are no gaps between your face and the mask.

Don't touch the mask once you have it on. If you must touch it, clean your hands with soap and water or an alcohol-based rub first.

When removing the mask, don't touch the front. Carefully remove your mask or face covering using the straps.

Wash your hands (or use hand sanitizer) immediately after removing the mask.
Remember, once you take off your mask, you either need to toss it out (in a closed waste bin) or run it through the washing machine.
Medical Masks
These professional grade masks, which include N95 respirators and surgical masks, are still needed by health care workers and first responders.
As it stands, N95 respirators, which are tight-fitting masks designed to filter out 95 percent of particles in the air, are the only proven method (coupled with frequent handwashing and disinfection) to prevent doctors and nurses from getting sick from COVID-19.
It's worth pointing out that N95 masks can hold in heat and fit so snugly that they might become annoying.
Surgical masks might seem like a safer or more legitimate face-covering option, but a scarf can provide similar barrier protection against large droplets.
Don't forget!
As we continue to learn more about the virus, the way(s) it spreads, and the level of protection needed so as not to contract COVID-19, wearing a mask is a simple step to help in our own protection, as well as those around us.