15 Ways to Use the Healthiest Summer Produce
Don't miss out on the most nutritious fruits and vegetables of the season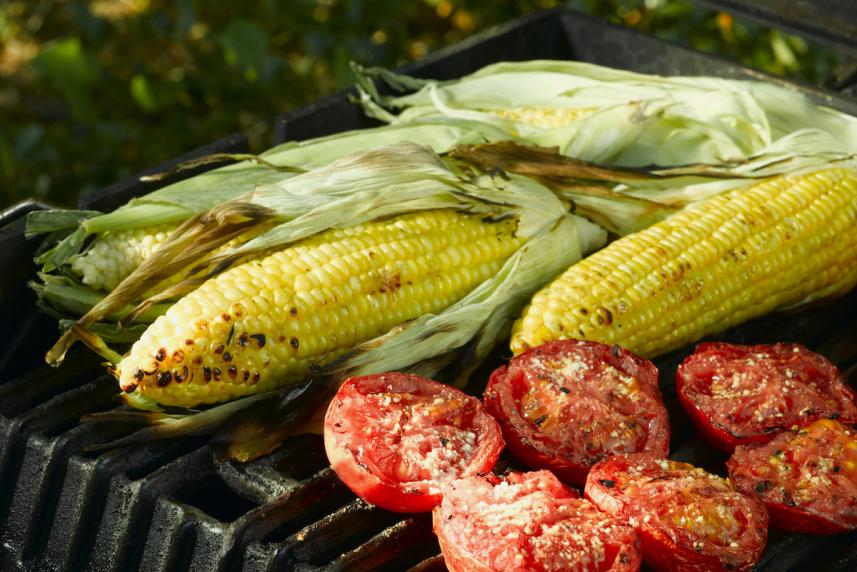 Because the produce section is our favorite place to shop and local and in-season fruits and vegetables are usually not only the best tasting but often the best priced, we decided to devote a quarterly series to the healthiest seasonal produce and best ways to enjoy it. Since growing seasons vary by region, you may want to read more about seasonal produce specific to your area.
Summer may be the easiest season to meet your nutritional needs. Supermarkets, farmers' markets, and maybe even your own backyard are brimming with nutrient-packed bounty. Which makes it a perfect time to solidify some healthy eating habits. "In-season produce is more nutritious and flavorful than eating the same produce when it's out of season," says Jessica Fishman Levinson, MS, RDN, CDN, founder of Nutritioulicious. "Plus it's more cost-effective." A tomato that comes from the farm just outside of town should be less expensive than one that traveled from Mexico.
"Number two, eating in season promotes a kind of harmony with your body and what's going on in the environment," says Rochelle Sirota, MS, RD, a registered dietitian in New York City. She explains that watermelon doesn't work very well in December in a cold climate because it's a cooling food, but it's perfect for a hot summer day. "If you're eating locally and seasonally, a lot of the foods that are at the height right now— cucumbers, tomatoes, summer squashes, kale, fresh herbs—are gonna be promoting a cooling and rehydrating effect," she says. "You'll find that you don't have to do a lot of cooking—sometimes the less you do with summer produce, the better." Here Levinson and Sirota name five of summer's healthiest offerings and three ways to use each.
Tomatoes
Tomatoes are a good source of vitamins A and C, fiber, and the antioxidant lycopene (especially when cooked).
1. Make a fresh tomato sauce for pizza or pasta. Freeze some for fall!
2. Blend up a cool batch of gazpacho.
3. Serve up a simple salad.
Summer Squash & Zucchini
"Low in calories and good sources of fiber, vitamin C, and some B vitamins, they also have a high water content, which is great for hydration during the summer," Levinson says.
1. Make this meatless zucchini sub for dinner.
2. Turn zucchini into noodles for a lighter summer pasta. Simply shave off zucchini strips with a vegetable peeler and serve with your favorite sauce.
3. Bake up a whole-grain zucchini bread for breakfast.
Corn
Corn is a whole grain and a good source of fiber, magnesium, folate, and vitamin C.
1. Grill it.
2. Cut it off the cob into a salad.
3. Cook up a corn chowder.
Stone Fruit: Peaches, Plums, Nectarines
All are good sources of vitamin C, fiber, and antioxidants.
1. Top yogurt with sliced peaches.
2. Grill them.
3.Top an arugula salad with them.
Blueberries and Strawberries
They're full of fiber, antioxidants, and vitamin C.
1. Add blueberries to whole-grain pancakes.
2. Toss them on top of a spinach salad.
3. Blend them with Greek yogurt and honey then freeze into popsicles for a simple sweet treat.