Get a flavor and nutrition blast from nature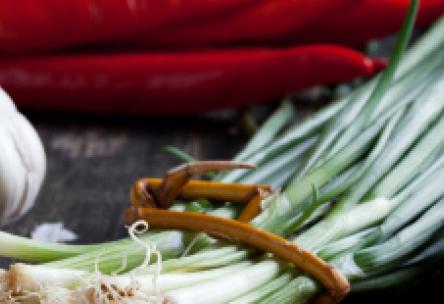 Sometimes it's okay to let condiments carry a dish. After all, what's a fry without ketchup? Other times, you can harness the power of nature for punchy meal fixings free of added salt, sugar, or preservatives. Learn about nutrition benefits of naturally flavorful ingredients and how to work them into recipes.
Chives, Garlic, Scallions, Leeks
Good taste runs in the family. Add zest to savory dishes with fragrant Allium plants, which have been linked to lower risk of stomach cancer in more than 14 studies since the 80s.
Try this: Dress up mashed root veggies with roasted garlic and snipped chives.
Peppers
Why stick to banana peppers on subs? Sample hundreds of pepper and peppercorn varieties in dried, fresh, pickled, paste, smoked, and more forms. With spicier peppers, you'll get health goodness of capsaicin.
Try this: Spike your favorite hummus recipe with roasted red peppers or chipotle paste.
Tropical Fruit
Tap into health benefits of island fruit, an excellent source of antioxidants and fiber. Look for baby bananas, dragon fruit, guava, feijoa, lychee, papaya, pineapple, star fruit, or Tahitian mango (a sweeter varietal) at Asian food markets or in the exotic fruit section of your grocery store.
Try this: Top sticky rice with warmed mango pulp and cinnamon for a Thai-inspired treat.
Fresh Herbs, Herb-Infused Oils
You may pay the same price for fresh and potted herbs as you would spices, but the flavor difference is immense (cheaper yet if you buy seeds and grow your own!). Sample fresh oregano, and you won't think of it as just pizza topping.
Try this: Steep fresh herbs in olive oil to use as salad dressing.
Horseradish, Wasabi
Add zip to sandwiches, salads, or sushi with spicy roots. If you prefer milder taste, select horseradish prepared with beets to help cut the heat.
Try this: Mix horseradish with low-fat mayo for easy sandwich spread.
Celery
Celery leaves, seeds, and stalks pack serious potency, and they contain sedanenolide, a compound that may help treat high blood pressure. Want more zing? Go for its stronger cousin, fennel, which also has edible leaves, seeds, and bulbs.
Try this: Braise celery stalks and leaves in oil to bring out sweetness. Toss with whole grain pasta and green peas.
Ground Mustard
For ~10 calories per teaspoon, stone ground mustard is a fantastic go-to condiment. Use it as marinade, stir-fry sauce, or vinaigrette. For simple salad dressing: Mix ground mustard, honey, oil, and vinegar.
Try this: Dip crispy chicken tenders in homemade honey mustard for a kid-friendly meal.