Creative ways to use this cruciferous veggie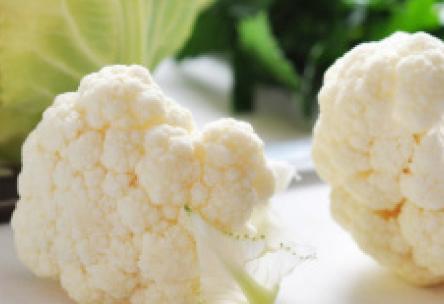 You may see it as broccoli's pale cousin, but it's time to appreciate the humble cauliflower. "In terms of nutrition, with cauliflower, there is a host of benefits," says McKel Hill, a Nashville-based registered dietitian. Compounds in cruciferous veggies like cauliflower have promising potential to prevent and treat cancers. "It really does have some powerful antioxidants," Hill says. Here are her favorite ways to utilize this versatile in-season veggie.
What Can I Make?
"When you bake it, roast it, steam it, or even eat it raw, you have a wide variety of textures," Hill says. To maximize cauliflower's nutritional benefits, eat it raw or lightly steamed. Any way you use it, you'll get a good dose of vitamin C, B vitamins, bone-boosting vitamin K and manganese and protein.
1. Mac n' Cheese
You can use cauliflower as a pasta substitute in mac n' cheese without compromising the neutral taste of pasta. "It takes a lot of different shapes," Hill says. "Cauliflower doesn't have a very strong flavor after it's cooked. That's the beautiful thing about it."
2. Cauliflower "Rice"
Going low carb? Have cauliflower sprinkled with lemon, pepper, and salt as a rice substitute, Hill suggests. "It is raw but very, very filling."
3. Pizza Crust
Flourless cauliflower pizza crust has been trendy lately, Hill says. "It's quite amazing, because you look at it and think, how is this cauliflower?"
4. Curried Cauliflower Soup
"Especially in the winter months, we all kind of gravitate toward those carb-rich foods that are filling and satiating," Hill says. Cauliflower adds volume and creaminess to soups, plus helps picky kids get their veggies. "Curry flavors go phenomenally well with cauliflower," Hill says.
5. Grated Cauliflower Salad
Use raw cauliflower to bulk up salads and maximize its nutrients, Hill suggests. Try shaved cauliflower salad with citrus, celery, and glazed walnuts makes for a filling lunch or anytime side dish.
6. Roasted Florets
Roasting brings out cauliflower's crisp, caramel side. "It's a nice flavor development that you can't really get with steaming," Hill says. "It really marries well and soaks in any flavor you give it." Plate roasted cauliflower with tofu or chicken for a hearty, healthy side, she suggests.
7. Cauliflower Mash
Forget mashed potatoes; curl up to a heaping bowl of cauliflower mash on rainy days or when comfort food cravings hit. "It gives you that mouthfeel of mashed potatoes," Hill says. Use olive oil for the healthiest dish, but Hill approves butter in moderation. If you're new to cauliflower mash: half potatoes, half cauliflower makes a nice transition, she says.
How Do I Buy and Store It?
The freshest cauliflower is pure white, firm, and has its leaves. Some grocers trim cauliflower leaves for presentation, causing brown spots especially when it's exposed to light, so pick cauliflower that's fully white whether or not it has leaves. For storage, keep it in the fridge and away from light for up to five days.