15 simple tips for quick, nutritious meals and snacks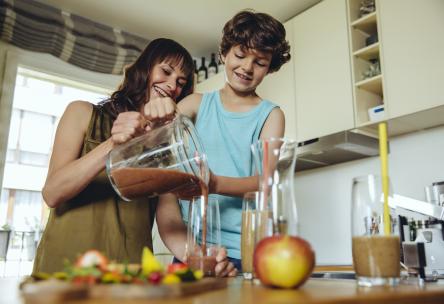 With school and work back in full swing, you may not have time to plan every detail of what you'll eat. Luckily, by following a few simple guidelines, you can improve the nutritional value of each meal, plus save time and money. Start by choosing wholesome foods, especially fruits and vegetables. Then aim to eat smart portions throughout the day for steady blood sugar and energy levels. Put it all together with the easy tips and delicious recipes below.
Breakfast: Start the Day with Fuel
Not hungry in the morning? In a rush to get to work? Calorie-counting? Your body still needs nutrients to power you through the day. "Breakfast kick-starts metabolism so your body burns calories rather than saves them," says Sharon Howard, R.D., owner of Nutrition for Living in Exton. It also helps your body maintain steady blood sugar levels.
Eating breakfast can also help you avoid overeating at lunch or dinner, says Emily Rubin, R.D., a dietitian at Thomas Jefferson University Hospital in Philadelphia. Try these breakfast ideas.


Bake oatmeal muffins the night before so you can grab and go in the morning. "Add ground flaxseed or almonds, which have heart-healthy fats," Rubin says. (Get a recipe at getgoodliving.com/oatmuffins.)


Whip up a fruit smoothie if you don't have a big appetite. Add spinach for nutrients and ground chia seeds for protein, says Stephanie Levinson, R.D., a dietitian in Blue Bell.


Make a lighter breakfast sandwich using whole grain bread, egg whites, Canadian bacon, lettuce, and tomato.


Upgrade your waffle with a topping of nut butter instead of syrup. Add banana slices or berries for a fresh twist.
Lunch: Beat Afternoon Hunger
Even if you squeeze in lunch between tasks, take a few minutes to eat. Skipping lunch leads to low blood sugar, which can make you irritable and unable to focus (You may have heard of this "hungry" and "angry" combination as "hangry.")
"Protein and fiber will keep you full longer," Rubin says. Lean turkey, eggs, and fish are good protein options. Vegetables and whole grains provide fiber. Try these lunch ideas.


Make a lean sandwich for a low-cost lunch. If you like tuna, chicken, or egg salad, use fat-free plain Greek yogurt instead of mayonnaise, Rubin says. Put it on whole grain bread, and top with veggies.


Swap potato chips for crunchy kale chips. "They're much lower in calories and rich in vitamins," Rubin says. (Get a recipe at getgoodliving.com/chips.)


Watch the toppings if you're buying a salad. The calories from bacon, cheese, and nuts can add up. Choose a vinegar-based dressing, and ask for it on the side so you can control how much you use.


Warm up healthy leftovers for a convenient lunch. Bonus: you'll waste less food, which saves money.

 
Dinner: Enjoy without Overeating
It's easy to overeat at dinner without realizing it, especially if you're starving from missing an earlier meal or if you eat too quickly. Over time, consuming too many calories can lead to weight gain. And like skipping meals, overeating can mess with blood sugar.
The trick is to build a balanced meal without extra calories, Rubin says. Use this guideline for your plate: ½ veggies + ¼ lean protein + ¼ whole grain
It's also a good idea to cut back on meat, which has saturated fat, she says. Try these dinner ideas.


Cook a simple stir-fry using a bag of frozen mixed veggies and lean chicken or tofu. Stir in a sauce of 2 teaspoons sesame oil, 1 tablespoon reduced-sodium soy sauce, and crushed garlic. Serve with brown rice.
Make chili with beans, and hold the meat. "Beans are a terrific source of protein, and they're low in fat," says Melissa Altman-Traub, R.D., a dietitian in Jamison.


Create your own pizza with frozen whole wheat pizza dough. Top with fresh tomatoes or low-sodium marinara sauce. Add bell peppers, mushrooms, onions, and a small amount of low-fat cheese.


Dig into a low-cal pasta made with zucchini or squash noodles using a spiralizer. Top with pesto. (Get a recipe at getgoodliving.com/pesto.)


Smart Snack Tips


Check your hunger first. Hungry? Go for a snack. Eating out of habit? Skip it.


Keep a bowl of fruit on your desk or counter for easy, healthy options.


Can't resist pumpkin drinks? Order yours with skim milk and without whipped cream to cut the fat.