Looking after yourself is the first step in caregiving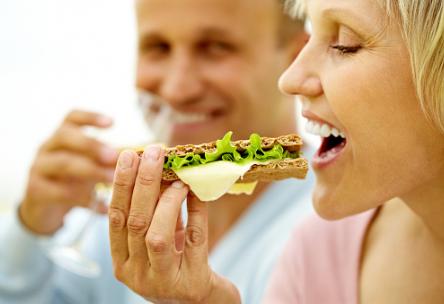 Caring for a family member or friend can be rewarding but also tiring and difficult. The demands of caregiving can make it challenging for you to take your own needs into account. Eating a balanced diet will help keep your body strong and give you the energy you need to provide the best care. Here, you can learn what a balanced diet looks like and find tips for eating well if you are on a budget.
A Balanced Diet
A well-balanced diet includes all the nutrients that your body needs to function properly. Try to limit foods that are high in saturated fat, salt, or sugar. According to the American Heart Association, you should eat a wide variety of foods from these five food groups every day.
Fruits: Four to five servings. One serving is 1 medium fruit, ½ cup berries, or a handful of grapes. You can also grab ½ cup dried fruit or ½ cup unsweetened fruit juice. Try out different varieties and colors.
Vegetables: Four to five servings. One serving is 1 cup leafy vegetables, ½ cup raw vegetables, 1 ear of corn, or half a sweet potato.
Protein: 3 to 6 ounces of lean protein. One serving is 2 to 3 ounces of cooked fish or lean meat or poultry. Oily fish, such as salmon or mackerel, are good choices. Nuts, tofu, and beans are also healthy options. Serve yourself ½ cup cooked beans, 1 egg, or ¼ cup nuts.
Dairy: Two to three servings. One serving is 1 cup milk or yogurt, 1½ ounces cheese, or ½ cup ice cream.
Starches and grains: Six to eight servings. One serving is 1 slice of bread, 1 small potato, or ½ cup cooked rice, pasta, quinoa, or oatmeal. Always choose whole-grain varieties when possible.
Tips for Healthy Eating on a Budget
Eating healthily doesn't need to be expensive with these ideas for eating well on a budget:
Plan a week of meals ahead of time using what's already in your fridge and pantry. Make a shopping list and only buy the exact ingredients you need.
Look for sales and coupons on foods that keep well, such as canned beans and tomatoes. Use them to add bulk to meat dishes and casseroles. They are high in filling fiber, plus vitamins and minerals.
Buy frozen fruit and vegetables. They can be cheaper, they last longer, and they are just as nutritious.
Swap premium brands for the supermarket brand.
When making a meal, prepare extra so you can have leftovers for lunch or freeze it for another time. Don't throw away anything!
Shop at the end of the day. Stores often slash prices on items that are about to expire.