Find out more about quinoa, the protein-rich superfood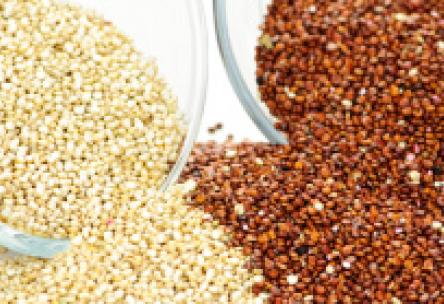 Chances are you've familiar with quinoa as it's slowly started to creep into salad bars and restaurant menus. But trendy ingredients tend to come and go so what makes quinoa so special? Better yet, how can you use it, and will it help you lose weight?
What Is Quinoa?
Quinoa often gets tossed into the whole grain category and used as a carbohydrate swap, but it's actually a seed. It has an exceptionally high nutrient profile, making it a diet superfood.
"It should be a staple food because of the nutrition factors," says Cheryl Forberg, RD. "The biggest one is the fact that it is a complete protein. It has all the amino acids of complete proteins, which is very unique for a plant," Forberg says. Your body needs complete proteins to build muscle, so if you've been losing fat and exercising, your body will need extra protein to strengthen existing muscles (like your heart) and help build up new ones (like long lean legs.) Per volume, quinoa doesn't have fewer calories than a standard grain like rice, but per calories it has more nutrients and protein than most grains, which means you can use quinoa for your carbohydrate and protein, cutting calories in your meal.
Quinoa, while great for everyone, is an especially handy option for vegans, vegetarians, and those on a gluten-free diet. It cooks up like rice or couscous, making it an easy grain substitute. Plus, it's simple to make! "It's pretty hard to forget the two-to-one liquid to quinoa ratio, and I love the fact that you can use so many different liquids to cook it in. Veggie broth, meat broth, milk, coconut milk, etc.," Forberg says.
Even thought it's a seed, quinoa has the same qualities of a whole grain, which means it's digested slowly and provides steady, long-lasting energy. "It doesn't contribute to spikes in blood sugar like a processed grain or white flour," Forberg says. Combined with the fact that it delivers a plenty of protein, that means quinoa will keep you feeling fuller and satisfied longer on fewer calories.
How to Use Quinoa
If you're still unsure of this super grain, Forberg recommends heading to your grocery store's bulk bins and buying just half a cup to start. There are many varieties of quinoa from red to black to ivory, and while Forberg recommends a colored quinoa for a slight bump in the nutrients (more color generally means higher nutrients), opt for the cheapest quinoa on your first go and then move onto fancier varieties if you like the taste.
Try quinoa these easy ways:
In your favorite grain salad
Tossed (cooked) in your stand-by granola recipe or energy bar recipe
Added to a salad, stir-fry, or fried rice
Whatever you do, make sure to give the uncooked quinoa a thorough rinse in cold water to remove the naturally occurring bitter taste left over from the growing process.
 
Creamy Quinoa with Toasted Walnuts
Serves: 2
Prep time: 20 min
Cook time: 10 min
2 tablespoons chopped walnuts
1 very ripe banana
½ teaspoon vanilla extract
2 cups fat-free milk
1 pinch salt
2/3 cup quinoa flakes
1. Preheat the oven to 350 degrees. Spread the walnuts on an ungreased sheet pan and bake for about 6 minutes, or until light golden brown, stirring occasionally. Set aside.
2. Mash the banana with the vanilla and set aside.
3. Combine the milk and salt in a medium saucepan; heat over medium-high heat until almost boiling. Reduce the heat to medium, add the quinoa flakes, and cook, stirring, until creamy, 1 to 2 minutes.
4. Stir the banana mixture into the saucepan with the cooked quinoa. Remove the pan from heat, cover, and let stand for about 5 minutes. Divide the quinoa between bowls, sprinkle with the toasted nuts, and serve.
Handy Hint: You can toast the nuts well in advance. If stored in an airtight container in the fridge, they'll keep for a few months.
Nutrition Information: 239 calories, 7g fat (1 g saturated), 6 g protein, 38 g carbs, 4 g fiber, 73 mg sodium
 
Garlic Fried Quinoa
Serves: 4
Prep time: 10 min
Cook time: 15 min
2 cups cooked quinoa
1 egg, beaten (or ½ cup egg substitute)
Pinch of salt
1 teaspoon water
2 teaspoons plus 1 tablespoon grapeseed or olive oil
1½ tablespoons chopped garlic
Chopped green onion, for garnish
Tamari or gluten-free soy sauce, for garnish
1. If you don't have cooked quinoa on hand, cook the quinoa, following the directions on the package. Set aside.
2. In a small bowl, whisk together the egg (or egg substitute), salt, and water.
3. Add 2 teaspoons of the oil to a large nonstick sauté pan over medium-high heat. Pour the egg into the pan and cook it like a pancake, turning when the top bubbles and the outer edges begin to firm up. Transfer the egg to a cutting board and cut it into thin strips. Set aside.
4. Add the remaining tablespoon of oil to the pan. Add the garlic and cook for 1 minute, stirring constantly, until the garlic is fragrant but not browned.
5. Add the quinoa to the pan and cook for 4 to 5 minutes, or until the quinoa just starts to brown. Stir in the egg strips and garnish with green onion. Serve with tamari or gluten-free soy sauce.
Nutrition Information: 187 calories, 9 g fat (1 g saturated), 7 g protein, 2 g carbs, 2 g fiber, 51 mg sodium