Breakfast Casserole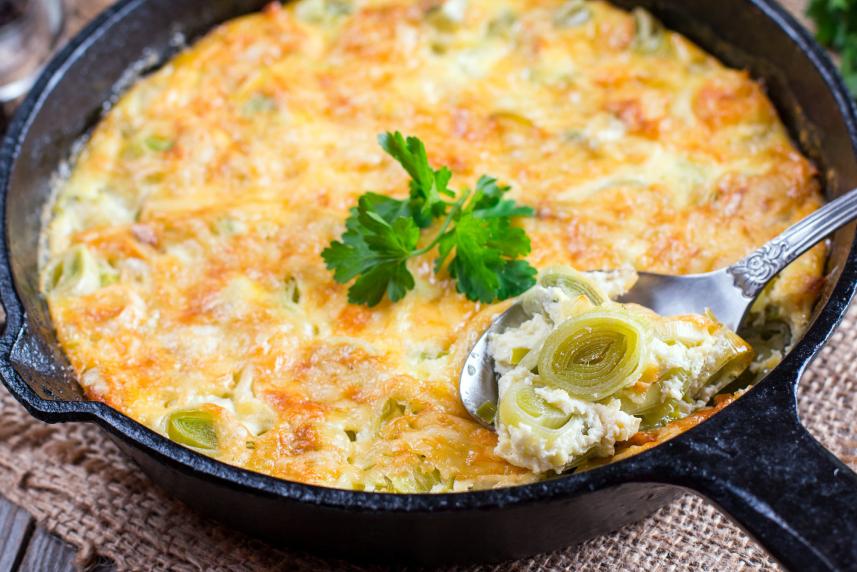 parsnips, coarsely grated
leeks, large, dark green parts removed and thinly sliced
chicken apple sausages, casing removed
unsalted butter, at room temperature
white cheddar cheese, shredded
sage leaves, thinly sliced
Directions
Preheat oven to 425°F. Toss parsnips, leeks, garlic, and oil in a large bowl, seasoning with salt and freshly ground black pepper. Roast, stirring occasionally, until leeks begin to caramelize and parsnips are tender, about 25 minutes. Reduce oven temperature to 350°F to keep warm.
While parsnips are roasting, brown sausages in a large shallow pan over medium heat, about 12 minutes. Break down the sausages as you cook. Remove from heat and drain fat by placing cooked sausage in a bowl lined with a paper towel.
Whisk together eggs, yogurt, and honey in a large bowl.
Grease an 8" x 8" casserole dish or cast iron skillet with butter. Arrange half of the roasted parsnip mixture on the bottom and layer with the browned sausage. Top with half of the cheese. Add the remaining parsnip mixture. Pour egg evenly over the mixture, and sprinkle remaining cheese on top. Bake until casserole is puffed and firm to the touch, 35 to 40 minutes. Garnish with thinly sliced sage and serve.
| | |
| --- | --- |
| Calories | 170.7 |
| Fat | 9.1 g |
| Saturated fat | 3.4 g |
| Polyunsaturated fat | 0.4 g |
| Monounsaturated fat | 2.4 g |
| Cholesterol | 53.2 mg |
| Sodium | 252.2 mg |
| Carbs | 15.2 g |
| Protein | 8.4 g |