Cornmeal Silver Dollar Pancakes with Blueberry Sauce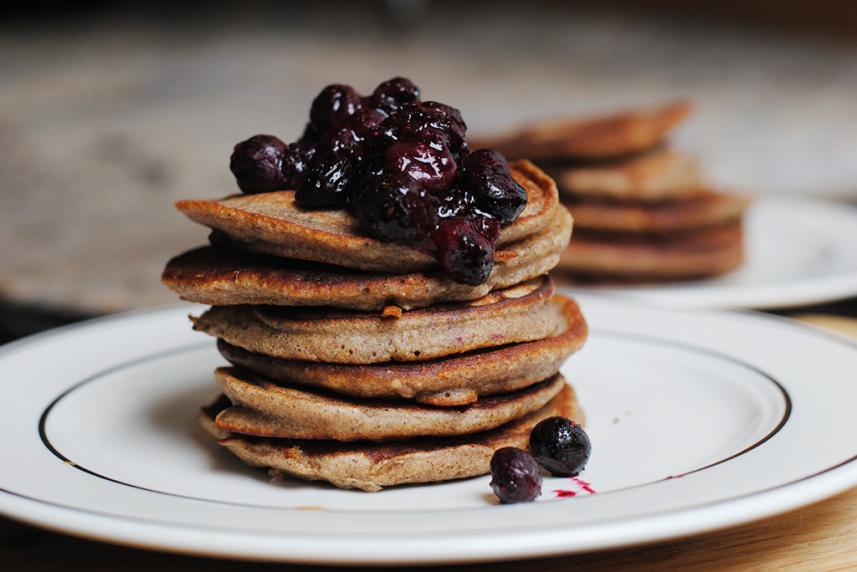 Directions
In a medium saucepan over medium-high heat, combine the blueberries and water and bring to a boil. Reduce heat to simmer and smash the blueberries, keeping the texture chunky. Simmer for 12 minutes or until mixture thickens. Remove from heat and stir in the vanilla extract. TIP: This can be made up to 3 days in advance, refrigerated.
Whisk together cornmeal, flour, baking powder, and baking soda in a large bowl. Whisk together honey, olive oil, egg, and milk in a separate medium bowl, until combined. Whisk the liquid mixture into the dry ingredients until combined and all the lumps are gone.
Lightly oil a frying pan or pancake griddle and put over medium heat. Dollop 2 tablespoons of the batter onto pan or griddle, and cook until ready to flip, about 3 minutes. Flip the pancakes and cook until golden brown on the other side, about 2 minutes. Continue until all the pancakes are cooked, and then serve with the blueberry sauce.
Handy Hint: Keep the pancakes warm while you finish frying, by preheating the oven to 250°F and putting the cooked pancakes on a foil-lined pan.
| | |
| --- | --- |
| Calories | 239.3 |
| Fat | 10.6 g |
| Saturated fat | 1 g |
| Polyunsaturated fat | 3 g |
| Monounsaturated fat | 5.8 g |
| Cholesterol | 31.4 mg |
| Sodium | 398 mg |
| Carbs | 33.2 g |
| Fiber | 3.8 g |
| Protein | 5.4 g |