Island Coconut Blondies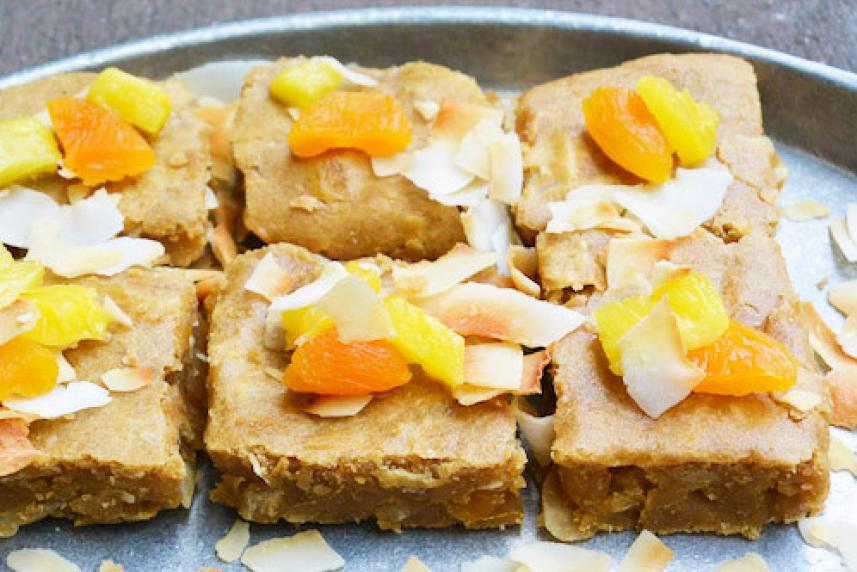 Directions
Heat oven to 350°F; grease and flour a square baking pan.
In a blender, pulse all ingredients except coconut flakes and dried fruit until smooth (about 10-20 seconds).
Transfer mixture to a large bowl and stir in coconut flakes and dried fruit.
Pour batter into baking pan and cook for 20-25 minutes.
Let cool, cut into squares, and serve. Top with toasted coconut if desired.
Handy Hint: Want it a la mode? Serve with a scoop of banana "ice cream." Simply blend 1 frozen banana with 1 teaspoon low-fat milk until creamy.
| | |
| --- | --- |
| Calories | 100 |
| Fat | 5.3 g |
| Saturated fat | 1.3 g |
| Polyunsaturated fat | 0.4 g |
| Monounsaturated fat | 3.5 g |
| Cholesterol | 11 mg |
| Sodium | 26 mg |
| Carbs | 11.4 g |
| Fiber | 2.1 g |
| Protein | 2.2 g |