Snowflake Spice Cookies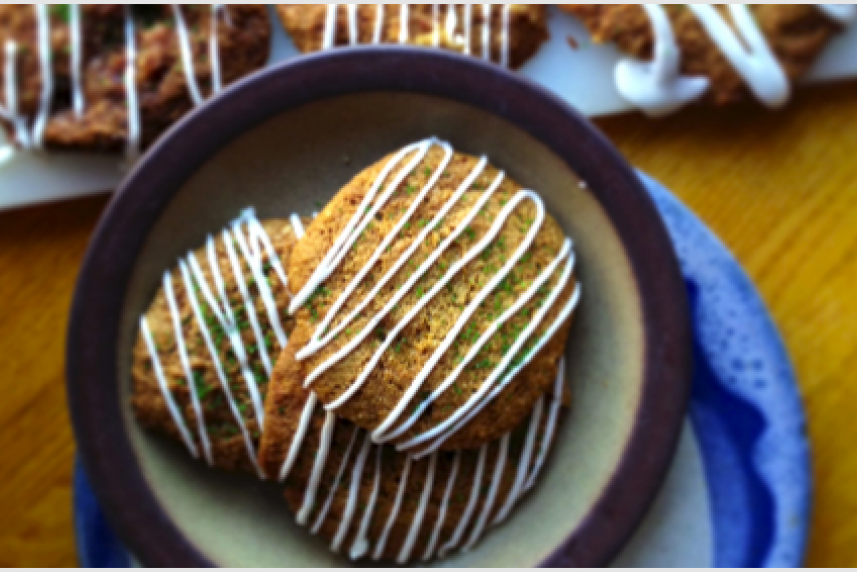 unsalted butter (about 1 stick), at room temperature
light molasses or maple syrup
Directions
Preheat oven to 350°F. Sift together flours, baking soda, and baking powder and set aside.
In the bowl of a stand mixer, combine brown sugar, butter, and applesauce. Mix on medium-high until smooth, about 1 minute. Add the ginger, cinnamon, cloves, egg, and molasses and mix on medium until just combined, about 2 minutes. Add the flour mixture and stir until just combined, about 2 minutes. Refrigerate dough for 15 minutes.
Drop rounded tablespoons of dough onto a cookie sheet, about 2" apart. Bake until puffed and lightly golden, about 15 minutes. Let cookies cool for 5 minutes on sheet before transferring to a rack. Let cool completely. Repeat with remaining dough.
If icing cookies, whisk together sugar, milk, and vanilla until smooth and thick in consistency. Load into a piping bag. Drizzle cookies with icing and sprinkle with sanding sugar. Let icing set before serving.
| | |
| --- | --- |
| Calories | 111.65 |
| Fat | 5.25 g |
| Saturated fat | 2.55 g |
| Polyunsaturated fat | 0.2 g |
| Monounsaturated fat | 1.2 g |
| Cholesterol | 18.05 mg |
| Sodium | 78.55 mg |
| Carbs | 15.75 g |
| Fiber | 1 g |
| Protein | 1.7 g |