The Big Chili
Starring a healthy protein and studded with veggies, this dish transforms mere comfort food into a nutritional blockbuster.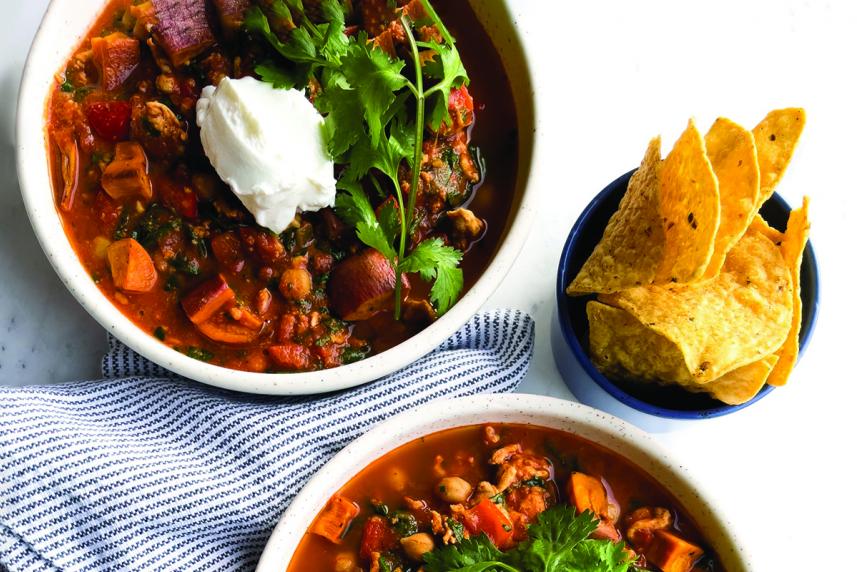 Directions
1. Sauté onions in olive oil in a large, heavy-bottomed pot, like a Dutch oven, for 3 to 5 minutes on medium heat, or until the edges turn golden.
2. Add sweet potato, pepper, meat, garlic, and spices, and cook for another 2 to 3 minutes (careful not to burn the garlic).
3. Add chickpeas, water or broth, and canned tomatoes, and let simmer on medium for 25 minutes, or until the sweet potato is tender.
(You can also cook this on medium-low for up to an hour.)
4. Add spinach and cook for 2 to 3 minutes to wilt down the greens.
5. Garnish with your favorite toppings: cilantro, scallions, thinly sliced radishes, avocado, a squeeze of lime, or Greek yogurt instead of sour cream.
| | |
| --- | --- |
| Calories | 457 |
| Carbs | 49 g |
| Protein | 37 g |
| Saturated fat | 2 g |
| Sodium | 179 mg |
| Potassium | 1287 mg |
| Fiber | 15 g |
| Sugar | 10 g |
| Calcium | 157 mg |