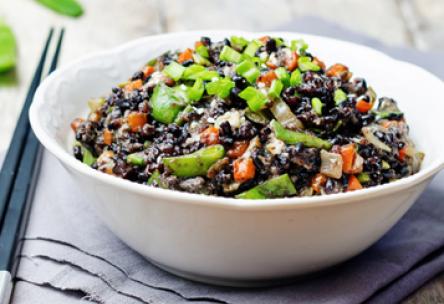 | | |
| --- | --- |
| Calories | 290 |
| Fat | 4 g |
| Sodium | 200 mg |
| Carbs | 50 g |
| Fiber | 10 g |
| Protein | 16 g |
Add to Shopping List
Directions
Mix rice with 3 1/4 cups water in a large saucepan and bring to a boil. Cover, lower, and simmer for 20 minutes.
In a large skillet, heat vegetable broth and sauté onion, garlic, salt and pepper for 2-3 minutes. Add edamame, carrots, zucchini, and mushrooms. Cook for about 10 minutes.
Add cabbage to vegetables and cook for 1-2 minutes. Remove from heat.
Whisk together sauce ingredients in a large bowl. Add rice and veggies and toss to coat.