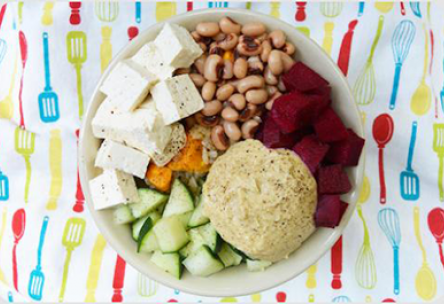 | | |
| --- | --- |
| Calories | 363.6 |
| Fat | 5 g |
| Saturated fat | 0.9 g |
| Polyunsaturated fat | 1.8 g |
| Monounsaturated fat | 1.4 g |
| Cholesterol | 0 mg |
| Sodium | 141.8 mg |
| Carbs | 70 g |
| Fiber | 12.4 g |
| Protein | 13 g |
Add to Shopping List
Directions
Rinse brown rice thoroughly. Chop sweet potato into small chunks and cook with rice according to package directions. Fluff rice-potato mix with a fork and divide between two serving bowls.
Top rice bowls with peas, beets, cucumber, tofu, and a scoop of hummus. Season with coarse salt and pepper and serve.
Handy Hint: Make your bowl even healthier with sprouted rice or legumes.