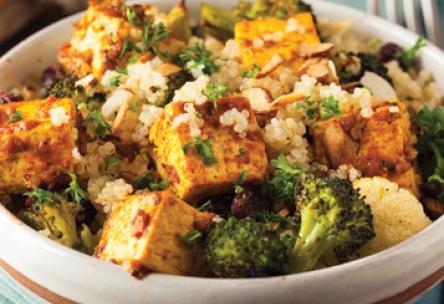 | | |
| --- | --- |
| Calories | 390 |
| Fat | 9 g |
| Saturated fat | 3 g |
| Carbs | 48 g |
| Fiber | 8 g |
| Protein | 14 g |
| Sodium | 380 mg |
Add to Shopping List
Directions
Preheat the oven to 400°F. In a large bowl, toss together the broccoli, squash, carrot, garlic powder, and 3 tablespoons olive oil. Pour the vegetables onto a large baking sheet, making sure they're arranged in an even layer.
Roast vegetables until they are soft and nicely browned, about 20 minutes.
While vegetables roast, bring the broth to a boil. Add the quinoa and cook according to package directions.
In a small skillet, brown the turkey in the remaining olive oil until warm, or sauté the tofu until golden brown. Set aside.
To assemble: Distribute the quinoa into two bowls, then top evenly with vegetables, turkey or tofu, and almonds.