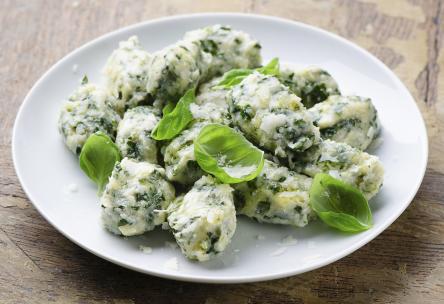 | | |
| --- | --- |
| Calories | 230 |
| Protein | 15 g |
| Carbs | 2 g |
| Sodium | 440 mg |
| Potassium | 200 mg |
Stay warm and cozy this winter by making homemade pasta! Gnocchi are known as "naked ravioli" because of the small amount of flour used, so try this light and fluffy version
Add to Shopping List
Directions
Stir together spinach, eggs, egg yolks, ricotta cheese, salt, pepper, nutmeg, Parmesan-Reggiano cheese, and flour until just combined (it should form a very soft dough).
On a lightly-floured surface, gently shape the dough into 1/2-inch thick ropes. (They'll all be cut up into smaller pieces, so it doesn't matter how many ropes you make.)
Cut each rope into 1-inch pieces and cook in batches in a large pot of boiling salted water, about 4 minutes.
Serve with drizzled olive oil and shaved Parmesan. Enjoy!
Tips: You can season with other herbs and spices, like basil, parsley, sage, and/or hot pepper flakes, as desired. For more protein, add chicken, tofu, or pine nuts. For more fiber and nutrients, add a side of sauteed spinach, broccoli, mushrooms, or your favorite vegetables!