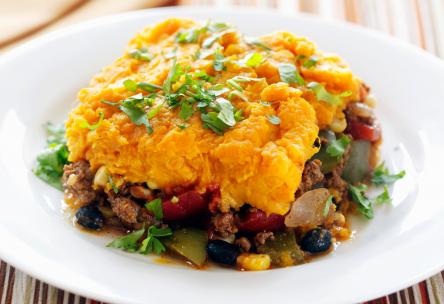 | | |
| --- | --- |
| Calories | 364 |
| Fat | 17 g |
| Protein | 24 g |
| Carbs | 29 g |
| Sodium | 546 mg |
Add to Shopping List
Directions
Preheat oven to 350 F.
Slice zucchini lengthwise into ¼-inch-thick slices. Arrange on parchment-covered baking sheet and brush with oil.
Turn slices and brush other side with oil. Sprinkle with salt, pepper, and thyme.
Bake zucchini until softened, about 20 minutes. Set aside.
Turn oven to 400 F.
While zucchini is roasting, peel sweet potatoes if desired.
Scrub and dice sweet potatoes.
Place in a medium saucepan; cover with cold water. Set pan over high heat, cover, and bring water to a boil.
Once water reaches a boil, uncover, decrease heat to a simmer, and cook potatoes until tender, about 12 to 15 minutes.
Drain potatoes in colander, return to saucepan, and mash lightly.
Add milk, butter, salt, and pepper and continue to mash until smooth. Set aside.
While sweet potatoes are cooking, heat oil in large sauté pan over medium heat until shimmering. Add onion and carrots and cook until soft, around 8 minutes.
Add garlic and cook until fragrant, around 1 minute.
Add beef, ¼ teaspoon salt, and ½ teaspoon ground pepper, and cook until meat is browned and cooked through, around 5 minutes.
Add beef broth, Worcestershire sauce, tomato paste, thyme, oregano, and rosemary; stir to combine.
Bring to a boil, reduce heat to low, and simmer until sauce has thickened slightly, around 10 to 12 minutes.
Add frozen vegetables and cook until vegetables are beginning to thaw, around 5 more minutes.
Coat an 8-inch-by-8-inch baking dish with cooking spray.
Layer the zucchini on the bottom of the baking dish, layering any leftover slices at a right angle from the bottom layer.
Spread the meat mixture over the zucchini, covering zucchini completely.
Spread mashed sweet potatoes on top, using a fork to create decorative lines and/or peaks in the mashed potatoes.
Place baking dish on a baking sheet and bake in oven until potatoes begin to brown, around 25 minutes.
Let cool on a cooling rack at least 10 minutes before serving.