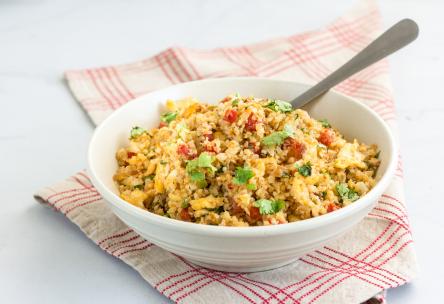 | | |
| --- | --- |
| Calories | 230 |
| Fat | 17 g |
| Saturated fat | 5 g |
| Carbs | 16 g |
| Fiber | 5 g |
| Sugar | 6 g |
| Protein | 8.5 g |
| Sodium | 450 mg |
A main dish cauliflower rice with a variety of spices and flavors
Add to Shopping List
Directions
1. In a food processor, add cauliflower in batches and process carefully until "rice" forms; transfer to a bowl.
2. In large skillet, heat 1.5 tsp avocado oil on medium-high heat. Add cauliflower rice and cook 5-7 minutes, stirring frequently. Add pinch of salt and transfer back to bowl.
3. In same large skillet, heat 1.5 tbsp avocado oil on medium heat and add onion, garlic, jalapeno and bell pepper. Cook for 5 minutes, stirring occasionally.
4. Add coconut milk, red curry paste, fish sauce, honey and 1⁄2 tsp salt. Stir and let simmer for a few minutes. Stir in cauliflower rice and peanuts.
5. Remove from heat and sprinkle with cilantro. Store in an air-tight container for up to 3-4 days.