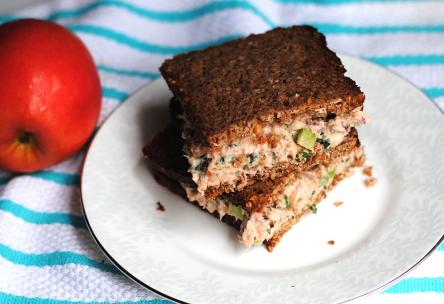 | | |
| --- | --- |
| Calories | 114.2 |
| Fat | 6.7 g |
| Saturated fat | 0.6 g |
| Polyunsaturated fat | 4.7 g |
| Monounsaturated fat | 0.9 g |
| Cholesterol | 8.3 mg |
| Sodium | 98.6 mg |
| Carbs | 3.1 g |
| Fiber | 1 g |
| Protein | 6.8 g |
Add to Shopping List
Directions
Drain the tuna and add it to a large mixing bowl. Add the remaining ingredients and stir until just combined.
Season to taste with salt and pepper and serve with sliced fresh veggies and a salad or with whole-grain bread.
Handy Hint: When mixing together your tuna salad, use a fork instead of a spoon to create a lighter, fluffier salad. The fork introduces a bit of air into the mix, where a mixing spoon actually compresses the salad as you stir, leaving you with a denser dish.