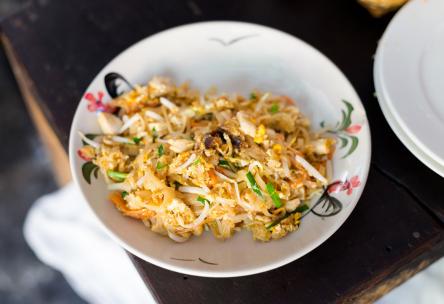 | | |
| --- | --- |
| Calories | 461 |
| Fat | 15 g |
| Saturated fat | 2.7 g |
| Sodium | 255 mg |
| Carbs | 69.4 g |
| Fiber | 8.8 g |
| Sugar | 19.6 g |
| Protein | 16.6 g |
Noodles, veggies, and tofu wrapped up in a delicious sauce. Healthy and easy to make
Add to Shopping List
Directions
To make the sauce: In a saucepan, add all sauce ingredients. Heat over medium and simmer for 30 seconds; set aside.
To make the noodles: Cook noodles, drain, and stir in a little bit of sesame oil; set aside.
To make the stir fry: In a pan, add oil, broccoli, and carrots. Cook about 5 mins, then add tofu and cook another 5 mins. Add garlic, chili flakes, and coconut aminos; cook until garlic is light brown.
To serve: Add the sauce, noodles, bean sprouts, green onions, and peanuts to pan; cook and stir until everything is hot and coated. Serve.
Tip: If you don't have tamarind paste, feel free to substitute with equal parts lime juice and light brown sugar.