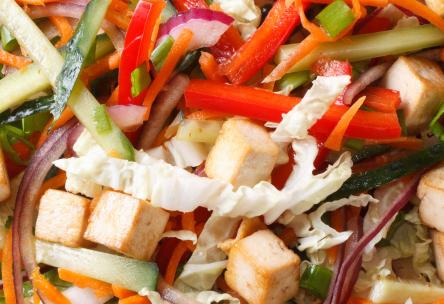 | | |
| --- | --- |
| Calories | 183 |
| Fat | 11 g |
| Saturated fat | 1 g |
| Carbs | 11 g |
| Sugar | 5 g |
| Fiber | 3 g |
| Protein | 10 g |
| Sodium | 410 mg |
A refreshing, light and fragrant Chinese-inspired vegetable salad, perfect for a quick healthy summer dinner meal
Add to Shopping List
Directions
1. Wash and prepare raw vegetables on a large cutting board.
2. Drain package of extra firm tofu, transfer to large cutting board, and use paper towels to blot water from tofu. Cut into cubes. Heat 1⁄2 tbsp canola oil on large pan and brown tofu cubes.
3. In large bowl, combine minced garlic and sesame oil; heat in microwave for 30 seconds to soften garlic.
4. Add to garlic/sesame oil mixture the rice vinegar, chili paste, soy sauce, salt and sugar.
5. Add prepared vegetables to sauce and mix to coat; add tofu to vegetables and carefully mix to coat. Chill and serve.