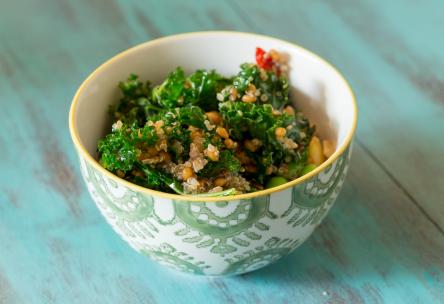 | | |
| --- | --- |
| Calories | 266 |
| Fat | 10 g |
| Saturated fat | 4 g |
| Carbs | 37 g |
| Fiber | 6 g |
| Sugar | 5 g |
| Protein | 12 g |
| Sodium | 340 mg |
Make-ahead Easy Hearty Grain Salad
Add to Shopping List
Directions
Make-ahead grain salad: Combine dry quinoa and farro. Fill a medium pot with 3 cups water and cook dry quinoa/farro for 20 minutes. When cooked, drain quinoa and farro and transfer to medium bowl. Mix in salt, spices, sugar, grape tomatoes, and fresh cilantro to quinoa/farro.
Heat 1 tbsp olive oil over medium heat in large or extra-large skillet. Add chopped kale, broccoli and red onion to pan in sections, and toss each ingredient to coat with olive oil; sauté for 5-7 minutes, stirring occasionally. Mix when cooked.
To serve, divide kale mixture into 4 bowls, add 2/3 cup grain salad atop kale mixture, and top with ¾ oz goat cheese and ¼ diced avocado.