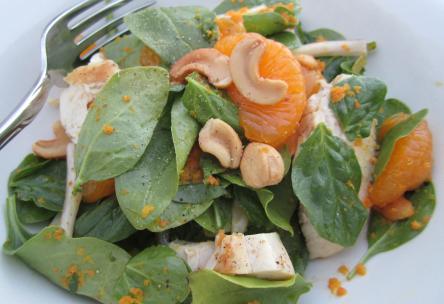 | | |
| --- | --- |
| Fat | 7.8 g |
| Monounsaturated fat | 3.9 g |
| Polyunsaturated fat | 2.1 g |
| Saturated fat | 1.3 g |
| Cholesterol | 16.4 mg |
| Sodium | 110.2 mg |
| Carbs | 13.2 g |
| Protein | 8.8 g |
| Calories | 320 |
The carrot-ginger dressing adds great flavor to this healthy salad
Add to Shopping List
Directions
Preheat canola oil in large nonstick pan over medium-high heat.
Add chicken to pan and season with salt and freshly ground black pepper. Cook 6 minutes per side or until chicken is no longer pink, turning to ensure doneness on all sides. Let chicken stand 2 to 3 minutes. Reduce heat to low and add 3/4 of the shallot to pan. Cook, stirring, 1 minute or until shallot is slightly softened and set aside.
Prepare dressing: Place carrots in food processor fitted with a metal blade and pulse until finely ground. Add remaining ¼ shallot and pulse until shallot is finely minced. Reserve 1/3 cup liquid from canned oranges and add to food processor with carrot mixture. Drain any remaining liquid and set oranges aside. Add ginger and slowly add oil while pulsing, until mixture is pureed. Season with salt and freshly ground black pepper and set aside.
Place spinach in a large bowl and add reserved shallot and oranges. Add cashews and reserved dressing and toss to combine. Divide salad among serving bowls.
Cut chicken into thin pieces and serve salad topped with chicken.
Therese Bonanni, RD, CD-N