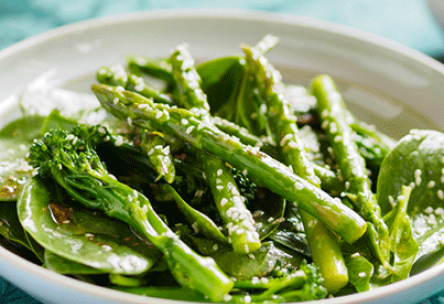 | | |
| --- | --- |
| Calories | 120 |
| Fat | 9 g |
| Sodium | 20 mg |
| Carbs | 10 g |
| Fiber | 3 g |
| Protein | 4 g |
Add to Shopping List
Directions
Whisk together vinaigrette ingredients (balsamic vinegar, olive oil, dried tarragon, honey, Dijon mustard, black pepper and garlic) and set aside.
Place quinoa in a 2-quart sauce pan. Add the water and lemon juice and bring to a boil. Lower heat, cover, and cook for 15-20 minutes. Remove from heat and let stand, covered.
In the meantime, trim off a few inches of the asparagus stems and discard. Thinly slice the asparagus into 1/8- to 1/6-inch rounds and add to the quinoa with the shallots and almonds.
Pour some of the vinaigrette over the mixture and toss to coat.