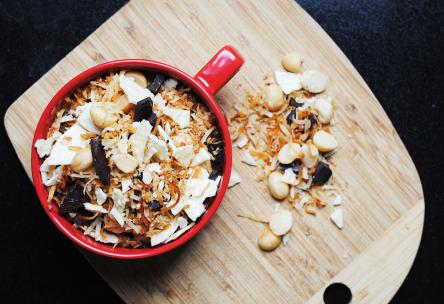 | | |
| --- | --- |
| Calories | 123.7 |
| Fat | 7.8 g |
| Saturated fat | 4.4 g |
| Polyunsaturated fat | 0.6 g |
| Monounsaturated fat | 2 g |
| Cholesterol | 1.3 mg |
| Sodium | 79.3 mg |
| Carbs | 13.9 g |
| Fiber | 1.8 g |
| Protein | 1.6 g |
This healthy snack is based on our favorite troop's cookie
Add to Shopping List
Directions
Preheat oven to 325°F. In a medium-sized saucepan over medium heat, combine the butter and sugar. Melt the butter, stirring occasionally, until the sugar mixture is smooth, about 5 minutes. Remove from heat and stir in the vanilla and salt.
In a large bowl, combine the coconut flakes, oatmeal, macadamia nuts, and flax seeds. Toss with the sugar mixture until everything is evenly coated. Spread the trail mix evenly in the bottom of a 9" x 13" baking pan. Bake for 25 minutes, stirring occasionally, or until the mix is golden brown. Remove from heat and let cool completely. Toss with rice cakes and dark chocolate store in an airtight container for up to two weeks.
Handy Hint: To keep the chunky clusters that make up a great trail mix, be sure to stir the coconut mixture gently as it bakes, preserving as many clusters as you can.