Chocolaty Pumpkin Granola Bars
Enjoy this sweet and seasonal vegan treat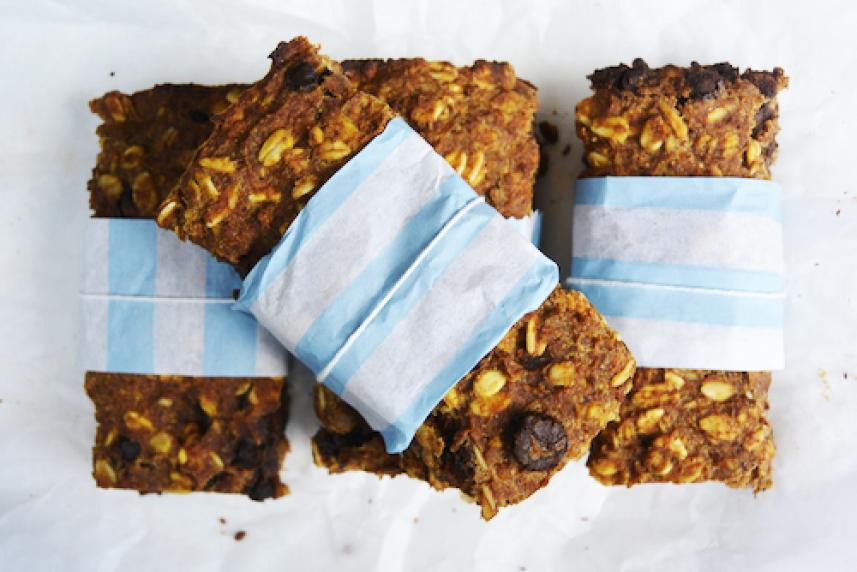 Directions
Preheat oven to 450°F.
For chia eggs: Grind 2 Tbsp chia seeds in blender for 30 seconds, then mix with 6 Tbsp water. Let sit for 5 minutes and stir.
Mix together pumpkin puree, chia eggs, oil, sugar, and vanilla.
In separate large bowl, mix oats, flour, and cinnamon. Combine wet and dry ingredients. Fold in chocolate chips.
Add batter to lightly-oiled rectangular baking dish. Bake on bottom rack for 25-30 minutes. Let cool and cut into bars.
Handy Hint: Carob is a great vegan chocolate alternative. If you're not into a chocolaty flavor, try golden raisins, chopped walnuts or dates, or butterscotch chips.
| | |
| --- | --- |
| Calories | 145 |
| Fat | 4 g |
| Saturated fat | 2 g |
| Polyunsaturated fat | 0.3 g |
| Monounsaturated fat | 0.3 g |
| Cholesterol | 0 mg |
| Sodium | 22 mg |
| Carbs | 25 g |
| Protein | 4 g |
| Fiber | 5 g |