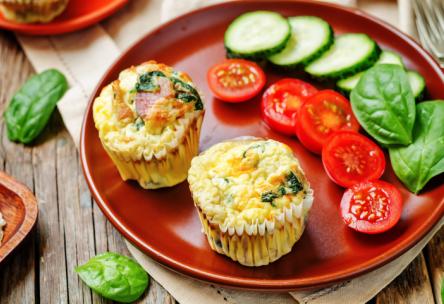 Eat your veggies in a flourless, gluten-free muffin! 
Add to Shopping List
Directions
Pre-heat oven to 375 degrees Fahrenheit.
Grease each muffin pan with drop of olive oil.
Wash and chop all veggies (I used microwave veggies and pre-cut potatoes; microwave veggies only about 2 minutes).
Pre-heat large sauté pan on medium-high, add 2 tsp. olive oil once pan is hot.
Add potatoes, sauté until slightly browned.
Add sweet potato, cauliflower, broccoli, stir until evenly distributed, cook 3 minutes.
Add cheese and stir until evenly distributed.
Whisk 6 eggs in small bowl.
Turn off burner and take pan off heat, add eggs and stir until evenly distributed.
Scoop into muffin tins, bake 15-20 minutes.
Scoop out with a spoon and enjoy!