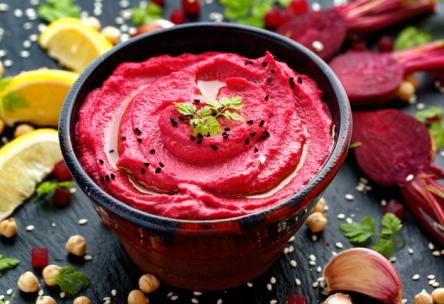 | | |
| --- | --- |
| Calories | 160 |
| Fat | 10 g |
| Carbs | 12 g |
| Fiber | 2.5 g |
| Protein | 3 g |
Add to Shopping List
Directions
In a food processor, blend roasted beet until smooth with minimal bits.
Add remaining ingredients to blend, reserving olive oil and water.
Drizzle in olive oil while hummus is blending. If too thick, thin out with water.
Adjust seasonings and serve with vegetables or whole grain pita.
Instructions for Roasting Beets
Option 1:

 

Preheat oven to 400 degrees F. Line a baking sheet with foil. If buying whole beets with stem, remove leaves and stalk. Peel beets and cube. Lay on baking sheet and toss with olive oil, salt, pepper, and dried sage (optional spices). Cover baking sheet with foil and bake beets for 1 hour or until tender.
Option 2:

 

Preheat oven to 425 degrees F. Scrub, wash, and remove leaves/stalk from beets. Place whole beets on aluminum foil and drizzle with olive oil and desired spices. Wrap in aluminum foil and bake for 45 minutes or until tender.