Here's how to get through grief when you're hurting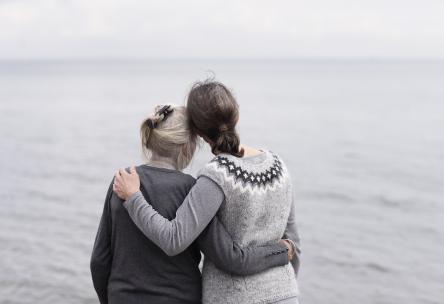 Maybe you're coping with a loved one's life-changing diagnosis—or coming to terms with your own. Or maybe you're struggling through grief and loss after the death of someone who was important to you. Whatever the circumstances are, there are coping strategies that can help.
Try these six tips for coping with loss from Dr. Ellen Astrachan-Fletcher, a clinical psychologist who teaches at Northwestern University's school of medicine.
Strategy #1: Take time to think and grieve  
Your first step when dealing with difficult times is to hit the pause button, says Dr. Astrachan-Fletcher. "This is enormous, difficult information to digest and comprehend," she says. "Don't make any rash decisions. No matter what your first impulse might be, take some time to take it all in."
Give yourself the freedom to feel and acknowledge your emotions, whether they're frustration, anger, or fear.
Strategy #2: Call a family member or friend
Who are the friends and family members you call when things are great—and not so great? Those are the ones you should rely on right now.
"Connecting with people is the most important thing right now, especially when all you really want to do is retreat into yourself," says Dr. Astrachan-Fletcher. "Don't hesitate to reach out for support. Allow yourself to be honest and to cry if you need to."
You can also consider looking into support groups if you're not comfortable being open or up front about what's troubling you with your loved ones. Some good resources can be found at griefshare.org and cancer.org. Whether you're looking to chat with others undergoing the same treatment as you, or are simply looking for more information, you can typically find a condition-specific program to fit your needs.
Strategy #3: Prioritize self-care
If the tough news you're processing is about a loved one, it's important to take care of yourself before you can take care of anyone else.
For you, self-care might be getting a massage, watching a favorite movie, or simply taking some time to meditate.
Strategy #4: Pen your feelings
Studies have shown that writing about stressful events in our lives can help us make sense of the difficulties we're facing.
Even writing a note to someone in your inner circle or your care team can help boost feelings of well-being. Consider keeping a journal or dashing off a note to someone who did a small act of kindness for you. Writing—and expressing gratitude—are therapeutic.
Strategy #5: Exercise frequently  
When you're dealing with tough news, you might not be able to get to the gym. But during stressful times, walking around the block might be enough. Easy and gentle exercise has been shown to boost your mood. One study found that exercise stimulates production of mood-enhancing chemicals, like serotonin, in your brain. Head to SilverSneakers.com for access to hundreds of online workouts you can do from the comfort of your home.
Strategy #6: Reach out to a professional
Sometimes, dealing with difficult changes can be made easier by working with an expert. Grief and loss are normal human emotions, but sometimes they are especially intense or lead to problems with everyday function that won't go away. In these cases, it's best to talk to a doctor or therapist who can help you adjust to changes in your life in the healthiest ways possible.
To find a licensed behavioral health provider in your area, use the Find a Doctor tool (an Independence Blue Cross resource).