The Art of Living Well
Balance is the key for this Philly minister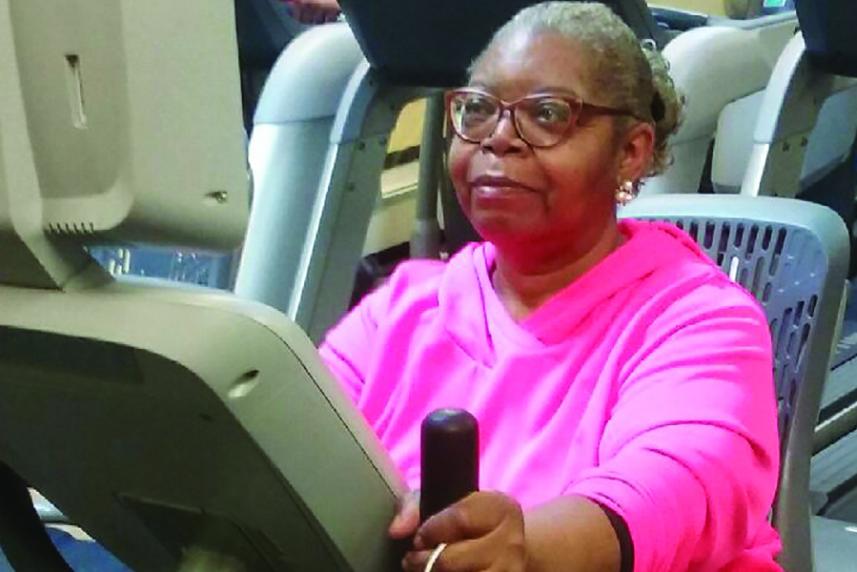 As an ordained minister, Patricia Odom-Pendleton, 67, knows the importance of nurturing her spiritual side. But she also believes in the value of staying physically active.
"My mother used to always say whatever you don't use, you lose. I don't want to lose it. I want to keep on using it." The mother of two and grandmother of five from Philadelphia hits the YMCA a few times a week—and she (wisely) likes to vary her workout routine. Sometimes she's on the weight machines. Wednesdays are for yoga. And whenever she can, she follows her natural passions—which she knows is a key way to keep exercise fun and fresh.
For Patricia, that means pool time. "I enjoy the water," she says. "I'll float on my back and enjoy the quiet peace." And during the summer, she loves water aerobics classes. The exercise helps Patricia handle her back pain. "One time, I could feel my legs shaking from the inside," she says. "I started yoga and working on the weight machines, and I don't feel that any longer."
While Patricia stays active, she also balances her activity with reflection and daily reading. "I know when to rest," she says. "I don't overexert myself."
Joyful connections
In addition to the physical benefits, Patricia finds emotional boosts through the YMCA. "Going to the YMCA makes me feel joyful," she says. "When you walk in, it's a family. Even if you don't know the people, you have a connection and you feel good." Patricia is known for her friendliness and down-to-earth nature. "Anywhere I go, people like to speak to me. Anyone I can help, I will do my best," she says. "I've learned that people don't need you to tell them what to do. They need you to listen."
Honoring health
"I'm a person of faith," says Patricia, "and that includes taking care of my body." She treats medical care with respect, never missing important screenings or appointments, such as a mammogram, physical, or home visit when she needs one.
And with Independence, Patricia says, "I can go to any doctor I'd like to!" Her healthy habits extend to the food she eats—Patricia picks up fresh produce regularly to make sure she and her husband get their fruits and vegetables. "We like fish with salad or coleslaw," she says. But she includes some treats, too. "I do make corn bread on the side and a homemade cake now and then."
Did a SilverSneakers class change your outlook on fitness? Send us your story at govmarketsmedicaremarketing@ibx.com.
The SilverSneakers fitness program is provided by Tivity Health, Inc., an independent company. ©2019. All rights reserved. Always check with your doctor before beginning a new type of exercise.