How fitness opened up "new worlds" for one SilverSneakers® member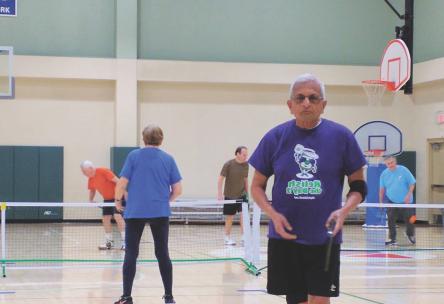 Mahesh Amin, now 74, started exercising regularly in his late 60s when he began to gain weight and feel his age physically. "They say you have to keep doing it, so I did," he says. 
Building connections When his wife died six years ago, the gym became more than Mahesh's quick stop for maintaining his health. Exercising soon became a way to get out of the house and be around people. "I made a habit not to turn on the TV or computer — you don't want to stay by yourself inside," he says. "At the gym, I met new friends, people I could talk to, and it has changed me a lot."
A brand-new world of fitness Before he found SilverSneakers, Mahesh used to go to a private gym, where he would use just the elliptical machine and treadmill, plus do some stretching and swimming. When he discovered SilverSneakers through his Independence Blue Cross health care plan, his life transformed. "They said, 'Come on, we'll show you!'" recounts Mahesh.
Aside from staying fit, Mahesh is also eating better. But he cites one major benefit above all. "My mind is open," he says. "One thing leads to another, and when you're meeting active people, you find that new worlds open up."
Mahesh has learned a great deal about himself through his new passion for fitness. "I never would have thought I'd be doing all these things at my age," he says, noting that he also enjoys line dancing and bowling twice a week. "There's so much happening that you become picky; you don't have time to do it all!" 
Did a SilverSneakers class change your outlook on fitness? Send us your story at govmarketsmedicaremarketing@ibx.com.
HELP THEM HIT THE BOOKS WHEN YOU HIT THE GYM 

You can now earn tuition discount points for a student in your life whenever you use participating SilverSneakers fitness locations. The more often you go to the gym, the more points you'll earn.*†

The points can be redeemed for tuition dollars and used by your student of choice at nearly 400 private colleges and universities in 44 states.

For more information, please visit www.collegesave.org/silversneakers.
The SilverSneakers fitness program is provided by Tivity Health, Inc., an independent company. ©2019. All rights reserved.
*Tuition discount points are spread over four years and are good for up to one full year of tuition credits at participating colleges and universities.
†The Tuition Savings Program is offered solely by Tivity Health, Inc., through the SilverSneakers fitness program, and is not a benefit provided or administered by Independence Blue Cross.