How to get the help you need during ovarian cancer treatment
The people in your life really want to do something for you. Here's how to let them.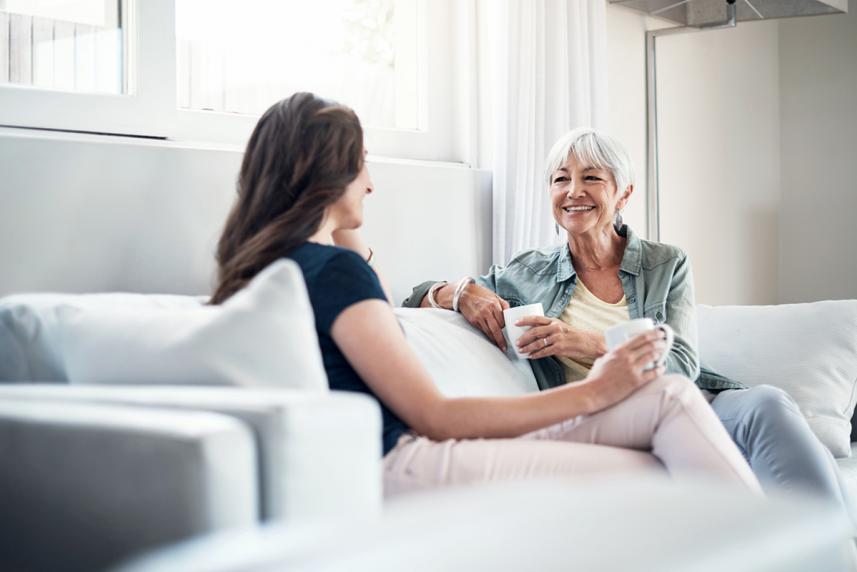 We get it: Asking for help can feel very uncomfortable, especially if you're used to managing every aspect of your life (and possibly your family's, too) on your own. But when you're coping with ovarian cancer, knowing how to identify your needs and get the right support can make a big difference in your quality of life. Most important, it can help you focus on your healing and well-being.
Here's the real secret: You really don't have to do everything on your own, says Jodi Sandos, an oncology social worker at Jefferson Health in Philadelphia. "Learning how to say 'yes' and 'thank you' is very important, because you will have limited time and energy," says Sandos. "Maybe you want to spend the energy you have with your children or your loved ones, and not cooking or cleaning your house. If someone can do that for you, let them."
Plus, you can be certain that your friends and family want to do something—anything—to help you. They know they can't change the facts of your diagnosis, but they can be enlisted to do specific jobs that help you preserve your energy. Send them to the grocery store, ask them to pick up the kids from school, or invite them to fold laundry. Think of it this way: "You're actually doing them a favor by letting them do something concrete," says Sandos.
How to identify your needs
If you're not sure where to turn for help, your social worker is a great place to start. You'll likely be assigned an oncology social worker at the outset of your treatment, so if you aren't aware of who yours is, ask. "We do know that people who have support do better, so when we have isolated patients, we help improve their access to support," says Sandos. "Every patient needs something a little bit different, so we meet the patient where they are," she says.
Pinpointing what you need at a given time may not be obvious, and your needs will likely change over the course of treatment. "(Try to be) really be mindful of how your body's feeling and what might be helpful," says Sandos.
For example, if responding to texts and phone calls feels overwhelming, you can designate one person to give updates on your condition via a group text or a website like CaringBridge.org. Sandos says that when everything feels chaotic for patients, deciding how to share information is one thing that is definitely under their control.
Other ways friends and family members can help:
Provide emotional support by calling and visiting
Organize a schedule for your network to drop off meals
Shop for and deliver groceries
Drive you to treatments
Help navigate financial or insurance issues
Assist with childcare or pet care
Clean your home
Do your laundry
Run other errands
Tips for asking for—and accepting—help
"Think about who is in your network," says Sandos. Maybe your sister is a great cook and can drop off dinner, or your neighbor has a flexible schedule and can drive you to an appointment. Your social worker can help you identify the individuals in your circle who might be best suited for particular tasks. They can also connect you with community resources you may not know about.
Sandos says that it can be very helpful to develop relationships with other patients who have the same diagnosis, through a hospital buddy program. "We have seen people connecting around the commonality of coping with treatment, fears of recurrence, and the progression of the disease," says Sandos. When people are trying to keep a sunny disposition and protect their family members, fellow patients can offer a safe place to talk about their fears.
COVID-19 considerations
Pandemic restrictions have been particularly challenging for ovarian cancer patients already dealing with depression, anxiety, and isolation, says Sandos. The shift from in-person to virtual programming at hospitals was abrupt, and many of the ways friends and family members typically supported patients in the past were suddenly no longer allowed. "Patients have been in the hospital by themselves," says Sandos.
However, some of the changes have actually increased participation in certain activities, because patients can access sessions like counseling, yoga, or mindfulness from anywhere. "Patients are able to engage in more of the programs now, because we are virtual," says Sandos. And hospitals can potentially use some of these new ways of doing things to help more patients post-pandemic, expanding options for support.
Just remember: Everyone needs some backup now and then. And when ovarian cancer is in the picture, that time is now.