Burger night, done light
Trying to eat less meat? With plant-based options like Beyond Meat® and Impossible™ foods now at your local store, you don't need to cut back on juicy burgers. These patties crowned with crunchy slaw are so delish, you won't miss the beef!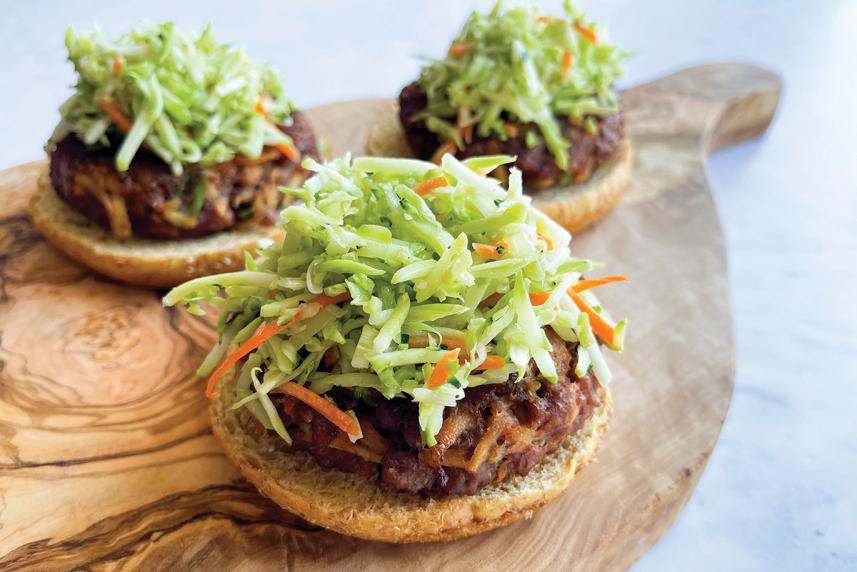 Plant-based burgers with vinegary broccoli slaw
START TO FINISH: 30 MINUTES / SERVES 4
Slaw 
2 cups broccoli slaw, purchased 
1 Tbsp apple cider vinegar
2 Tbsp olive oil 
1 Tbsp honey 
¼ tsp salt 
3 cranks fresh ground pepper
Burgers
1 lb plant-based ground beef alternative
1 clove garlic or ½ tsp flaked garlic 
1 large carrot, grated (about 1/2cup) 
1 Tbsp tamari or soy sauce, optional 
1 green onion, sliced thin
1/8 tsp salt 
3 cranks fresh ground pepper 
2 tsp olive or preferred oil 
4 buns (if desired)
Mix all the ingredients for the slaw and let sit at least 20 to 30 minutes while you make the burgers. 
Mix the ingredients for the burgers and form into four equal patties. 
Preheat the grill to medium-high and rub the patties with olive oil or your preferred oil.
Cook, undisturbed, until edges are brown and undersides are charred, about 4 minutes each side. Make sure the patties are cooked through, reaching 160°F. 
Put a patty on each bun. Add about ¼ cup of slaw to each patty and optional toppings like mayo, lettuce, and tomatoes. Serve open-faced or inside a bun.
COOKING TIPS
WATCHING YOUR SODIUM?
These patties are just as tasty sans soy sauce.
NO GRILL?
Add 1-2 Tbsp oil to a skillet or pan and cook the burgers about 4 minutes on each side, until cooked through, reaching 160°F. 
LEFTOVERS?
Store patties in the fridge for up to three days. You can also double the slaw, and enjoy the extra as a side the next night. It's tasty warmed too.
Recipe and photo by Carla Contreras
NUTRITION INFORMATION
Vinegary Broccoli Slaw: Calories 92; Carbohydrates 7.4 g; Protein 1.3 g; Saturated fat 1g; Sodium 163 mg; Potassium 150 mg; Fiber 1.2 g; Sugar 1.2 g; Calcium 22 mg 
Burgers (using Beyond Beef Plant-Based Ground): Calories 260; Carbohydrates 5 g; Protein 20 g; Saturated fat 5 g; Sodium 350 mg; Potassium 280 mg; Fiber 2 g; Sugar 0 g; Calcium 100 mg 
Recipe and photo by Carla Contreras