Cook Time
1 hour 25 minutes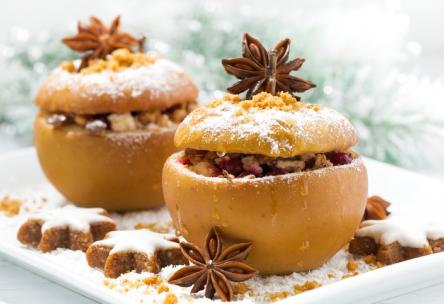 | | |
| --- | --- |
| Calories | 353 |
| Fat | 17 g |
| Protein | 7 g |
| Carbs | 48 g |
| Sodium | 213 mg |
These simple baked apples are delicious as is
Add to Shopping List
Directions
Heat oven to 350F. Line an 8"x8" baking dish with parchment paper. Scatter walnuts and oats in dish and toast in oven until lightly browned and fragrant, around 8 minutes. Remove from baking dish, with parchment paper, and set aside to cool.
Rinse and core apples using a melon baller, taking care not to cut them all the way through to the bottom. Set aside.
In a medium bowl, mix walnuts, oats, cranberries, almond meal, brown sugar, salt, cinnamon, nutmeg, and butter. Stir to combine thoroughly. Add egg to mixture and stir thoroughly to combine. Use a small spoon to divide the mixture among the four apples, allowing the filling to overflow a little. Place apples in the baking dish and pour water into dish, taking care not to splash top of apples, until water is around 1/2-inch deep. Bake 30 minutes, then replenish water in bottom of pan. Bake until apples feel tender when pierced with fork, about another 30 minutes (1 hour baking time total).