Tortilla-less Chicken Fajitas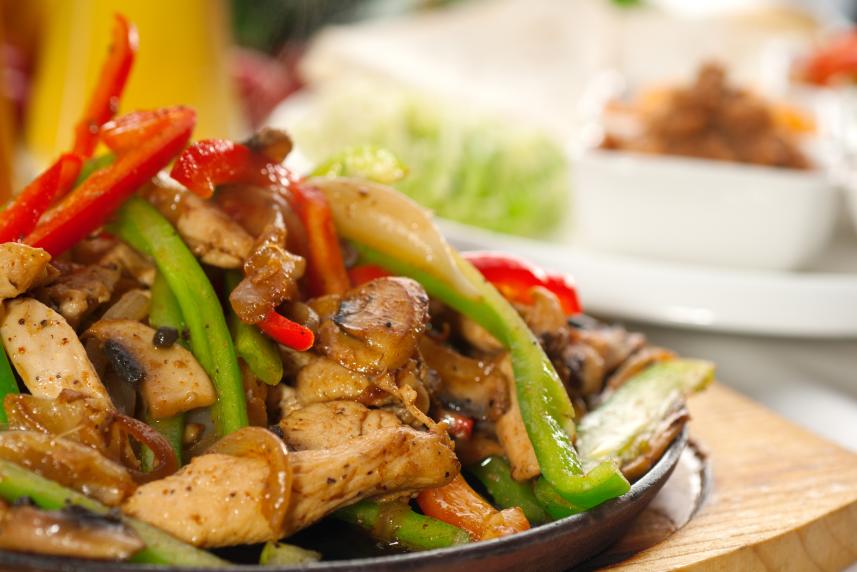 Directions
Heat 1.5 tbsp olive oil on large pan over medium heat. Season raw chicken breast with black pepper and salt and transfer to pan; cook thoroughly, about 10 minutes.
 On a separate large pan, heat ½ tbsp olive oil over medium heat. Add sliced onion and bell pepper strips to pan, and sauté for 2 minutes. Season with ½ tbsp garlic powder, ½ tbsp cumin and a little salt and pepper to taste and sauté another 1-2 minutes. Add fresh cilantro to onion and bell pepper mixture. 
When chicken in cooked thoroughly, transfer to cutting board to cut into strips. Return chicken to pan, season with ½ tbsp garlic powder, ½ tbsp cumin and juice of entire lime; and stir until well coated over medium heat, about 1-2 minutes.
Arrange each plate with ¼ of bell pepper/onion mixture, 1/4 of chicken mixture, and top each serving with 1-2 tbsp. of salsa and 1-2 tbsp. light sour cream/plain Greek yogurt as desired. 
| | |
| --- | --- |
| Calories | 292 |
| Fat | 11 g |
| Saturated fat | 2 g |
| Carbs | 13 g |
| Fiber | 4 g |
| Sugar | 5 - 10 g |
| Protein | 34 g |
| Sodium | 495 mg |