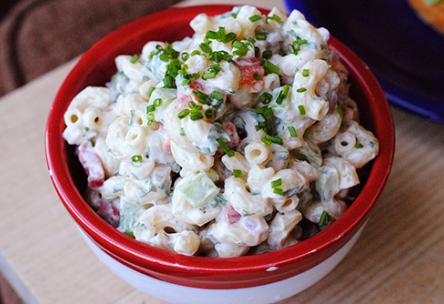 | | |
| --- | --- |
| Calories | 177.5 |
| Fat | 0.9 g |
| Saturated fat | 0.1 g |
| Polyunsaturated fat | 0.4 g |
| Monounsaturated fat | 0.1 g |
| Cholesterol | 0 mg |
| Sodium | 190.6 mg |
| Carbs | 34.6 g |
| Fiber | 3.2 g |
| Protein | 8.7 g |
Add to Shopping List
Directions
Toss the pasta, celery, onion, and sun-dried tomatoes in a large bowl. Set aside.
In a separate bowl, whisk together the yogurt, chives, parsley, vinegar, honey (if using), and black pepper. Toss the dressing with the pasta mixture and refrigerate until serving.
Handy Hint: To keep the pasta from sticking together while you make the dressing, toss the drained pasta with 1/2 tablespoon olive oil or butter while it's still warm. Since you've cut the mayo, a little additional (healthy) fat is okay.