Serving Size
about 3 ounces asparagus and 2 tablespoons sauce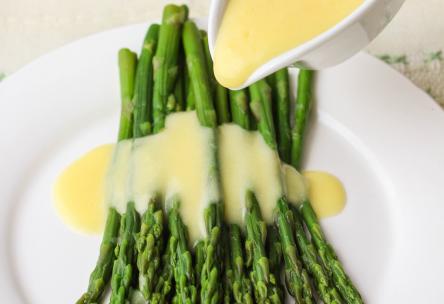 | | |
| --- | --- |
| Calories | 57 |
| Fat | 2.7 g |
| Saturated fat | 0.7 g |
| Protein | 3.2 g |
| Carbs | 6.7 g |
| Cholesterol | 51 mg |
| Sodium | 169 mg |
Add to Shopping List
Directions
Snap off tough ends of asparagus; remove scales from stalks with a vegetable peeler, if desired.
Cook asparagus, covered, in a small amount of boiling water 8 to 10 minutes or until tender; drain. Set aside, and keep warm.
Place egg yolks in a small bowl; stir well with a wire whisk.
Combine water, cornstarch, and salt in a small, heavy saucepan. Cook over low heat, stirring constantly, until mixture comes to a boil and begins to thicken. Remove from heat; add 2 tablespoons cornstarch mixture to egg yolks, stirring constantly with a wire whisk. Add egg yolk mixture to remaining cornstarch mixture; cook, stirring constantly, 2 minutes or until temperature reaches 160°. Remove from heat; stir in lemon juice and margarine.
To serve, spoon sauce over asparagus, and sprinkle with lemon rind, if desired.
All-New Complete Step-by-Step Diabetic, Oxmoor House 2010