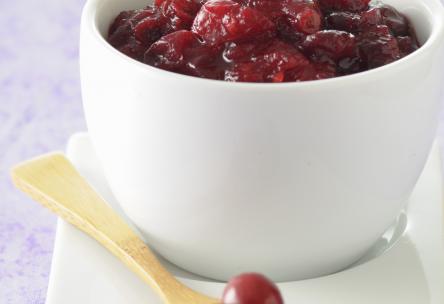 | | |
| --- | --- |
| Calories | 392 |
| Protein | 2 g |
| Carbs | 7 g |
| Sodium | 12 mg |
| Potassium | 578 mg |
This tasty compote is easy to make! In as little as 10 minutes, you can impress your friends and family with this fancy-looking treat. It can be added to cheese and crackers, used as a glaze for meats, drizzled on desserts, or mixed into your breakfast oatmeal or yogurt
Try this compote over frozen yogurt, cheesecake, oatmeal, or whole-grain pancakes for a sweet option. If you want to go savory, put it on goat cheese or brie, or use it as a BBQ sauce on chicken!
Add to Shopping List
Directions
Add cranberries to skillet on medium-low heat (they will pop throughout the cooking process).
Add cornstarch and orange juice to small bowl, stir until paste forms (this is called a slurry).
Add slurry to skillet and stir, then add apple cider vinegar.
Add honey and rosemary to pan, simmer on medium-low heat for 10-15 minutes, stirring throughout. Allow mixture to thicken.
Remove from heat, cool slightly, add to food, and enjoy!
Handy Hint: If you want to make the compote sweeter, add 1 teaspoon of Stevia or 1 tablespoon of maple syrup after the honey and rosemary have been cooking for 10-15 minutes. To up the flavor profile, you can also add any spices you'd like, too.