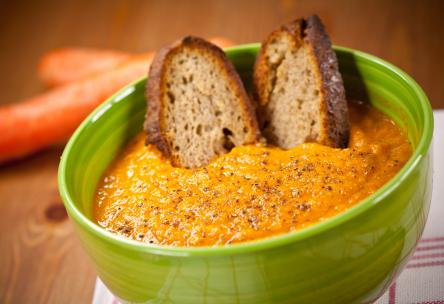 | | |
| --- | --- |
| Calories | 440 |
| Fat | 20 g |
| Saturated fat | 8 g |
| Carbs | 53 g |
| Fiber | 14 g |
| Protein | 14 g |
| Sodium | 400 mg |
Add to Shopping List
Directions
Preheat the oven to 450 degrees F. Heat 1 tablespoon olive oil in a large wide pot or Dutch oven over medium-high heat. Add the scallion whites, ginger and garlic and cook, stirring occasionally, until softened, about 2 minutes. Stir in the carrots and season generously with salt and pepper. Add the coconut milk, beans with their liquid and 3 cups water. Cover and bring to a boil over high heat. Uncover and cook, stirring occasionally, until the carrots are very tender, 18 to 20 minutes.
Meanwhile, toss the squash, broccoli and bread with the remaining 2 tablespoons olive oil and 1/4 teaspoon each salt and pepper on a rimmed baking sheet. Roast, stirring, until the vegetables are tender and browned, and the bread is toasted, about 15 minutes.
Puree the soup with an immersion blender (or transfer to a regular blender in batches and puree); season with salt and pepper. Divide the soup among bowls. Drizzle with olive oil and top with the vegetable-crouton mixture and scallion greens. Serve with crusty bread.