Whip up a healthy plate that definitely won't taste like you threw it together last-second.
If you're over cold oatmeal, you should try: Banana pancakes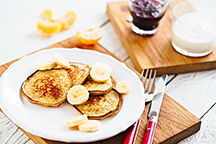 Serves 4
3 ripe bananas
6 eggs
1/3 cup plus 2 tablespoons coconut flour
Combine all ingredients in a blender. Puree until smooth.
Heat a nonstick skillet on medium-high. Pour the batter into the skillet about ¼ cup at a time. Leave space around each pancake. Cook 3 minutes, or until brown on the bottom. Flip. 
Continue cooking pancakes on the other side until brown and cooked through.
Calories 173, Carbohydrates 20.8 g, Protein 9.3 g, Saturated fat 2.2 g, Sodium 93 mg, Potassium 410 mg, Fiber 2.3 g, Sugar 11.4 g, Calcium 39 mg
If you're over MEAT AND POTATOES, you should try: Sweet potato boats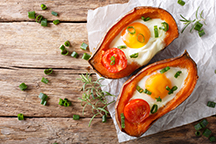 Serves 1 or 2 
1 sweet potato, baked
2 large eggs
1 cherry tomato, halved
Preheat oven to 400°F. Cut the sweet potato in half lengthwise. Scoop out a hole in each half and save the extra potato for another use. 
Transfer the halves to a baking sheet. Crack an egg into each. Place a cherry tomato half on each egg. Bake 15 minutes. Season with salt and pepper and snipped chives, if desired.
Calories 230, Carbohydrates 24.5 g, Protein 13.4 g, Saturated fat 2.7 g, Sodium 164 mg, Potassium 677 mg, Fiber 3.9 g, Sugar 8.3 g, Calcium 51 mg
If you're over plain pasta with marinara, you should try: Penne with asparagus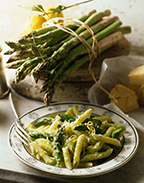 Serves 4

8 ounces whole-wheat penne
1 pound asparagus, trimmed and cut into 2-inch pieces
2 ounces goat cheese, crumbled
Cook the pasta. Add the asparagus 3 minutes before the pasta is done. Drain. Reserve
½ cup of the liquid. 
Keep the empty pot on low heat. Return the pasta and asparagus to the pot. Add
2 tablespoons of the liquid. 
Add the cheese. Stir, adding the liquid 1 tablespoon at a time until the sauce is creamy.
Calories 276, Carbohydrates 44.5 g, Protein 15.8 g, Saturated fat 3.5 g, Sodium 61 mg, Potassium 236 mg, Fiber 8.4 g, Sugar 2.4 g, Calcium 174 mg